Edrychwch ar y dudalen hon yn Gymraeg?
What is Blended Learning?
Blended learning is a term used to describe the way e-learning is being combined with traditional face-to-face methods and independent study to create a new, hybrid teaching methodology. It represents a fundamental change in the way educators and students approach the learning experience.
Blended learning has three primary components:
In-person, face-to-face activities facilitated by a trained educator.
Online learning materials, often including videos and interactive resources.
Structured independent study time, guided by the online material and skills developed during the in-person experience.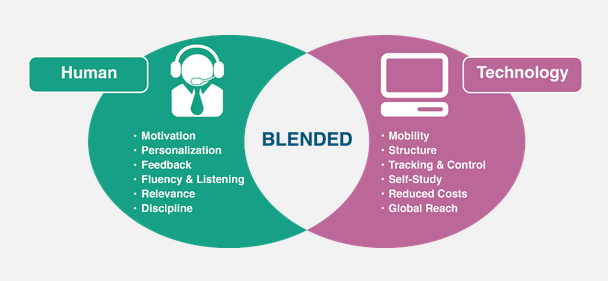 Does Blended Learning work?
Not all students learn the same way. This is not a particularly novel concept, but it is an important one. Students never outgrow their learning styles; even early childhood education programming, like Sesame Street, recognises this, and therefore design programming in a way that reaches auditory, visual and kinetic learners alike. So, why do traditional college classrooms and lectures fail to engage all of them?
This is blended learning's real strength: it transforms a largely transmissive method of teaching, say a traditional lecture or tutoring session, into a truly interactive one.
How are we utilising Blended Learning at Cymru Care Training?
Completing your course with Cymru Care Training allows you to use the very latest educational technology to study, alongside face-to-face appointments with your tutor/assessor.
The resources made available to you make it possible for you to study anywhere you have an internet connection, without the need to carry books or printed materials around with you. You can study at your own pace, from home or anywhere you like, using your computer or mobile devices such as tablets and smartphones. The exercises that you are required to complete as part of your course are also provided in electronic format, or can be completed online.
Online systems that are available for learners to use include:
CCT Learner Resources Site
Google Classroom – for online study
WEST – for Essential Skills development
E-track – ePortfolio tool
Online Learning resources provide you with the opportunity to work your way through your course at a much faster rate than can usually be achieved in a traditional 'books and paper' style of course. On average, learners utilising online learning resources take 2-3 months less time to complete their course and achieve their qualification.